List of Best Books For Trading: As one decides to take up trading there are several alternatives available. The best among all these alternatives being books. These would save novice traders a lot of time and money by helping them avoid several of these mistakes. Here is a list of some books which we feel are masterpieces when it comes to the world of trading.
Top 7 Books for Trading in the Stock Market
1. How to make Money in Stocks by William O'Neil
 The book is written by William a stockbroker and founder of the stock brokerage firm William O'Neil & Co. Inc in 1963. The book includes the CAN SLIM strategy which was invented by O'Neil and helped him become one of the top-performing brokers. Today this method is celebrated throughout the trading community worldwide.
Another fact which sets this book apart is that it is written based on research of over 100 years of stock price movements. The topics in the book include charts and notes along with a wide range of strategies and tips. 
2.  Getting Started in Technical Analysis by Jack Schwager – Best Books for Trading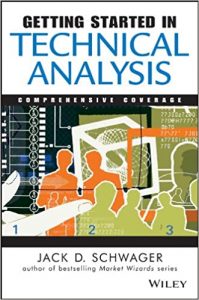 This is one of the best books available for any person looking to start out trading. Jack D. Schwager is a widely acclaimed trader and author.
He is also one of the founders of Fund Seeder where trading talents are discovered throughout the world and connected. The book comes with many examples and covers almost every basic topic.
However, the book is not only focused on the basics but also covers several chart patterns, technical indicators, and also explains how to identify entry and exit points. This book is one of the best starting points to set up a good foundation for trading.
3. Reminiscences of a Stock Operator by Edwin Lefèvre 
Just like every other genre trading too has its own set of classic books. Published in 1923, Reminiscences of a Stock Operator being one of them. The book is written by Edwin Lefèvre but is based on the legendary trader Jesse Livermore.
The book does not follow the same monotonous format by includes stories or better put the journey which provides a better insight into trading and the life of a trader. These stories also include instances that made successful trades and instances that could destroy a trader. 
ALSO READ
4. Technical Analysis of the Financial Markets by John J. Murphy – Best Books for Trading
This book provides a great comprehensive introduction to technical analysis. The book is written by John J. Murphy who has worked as a technical analyst for CNBC for over 4 decades.
Although this is another important book for those entering the world of technical analysis what sets it apart is Murphy's ability to convey complex topics in an easy-to-understand manner. You can find the book on Amazon here.
5. Stocks on the Move: Beating the Market with Hedge Fund Momentum Strategies by Andreas Clenow
Stocks on the move is one of the most famous trading books that also gives an insight into trading strategies used by Hedge Funds. The author, Andreas Clenow has a stellar resume having worked for Reuters, founding and managing multiple hedge funds.
The book includes a detailed step-by-step explanation for his momentum trading strategy. The book also includes statistical evidence and backtested results. However, the book may be overwhelming to someone who has no base in statistics.
6. Market Wizards book series by Jack Schwager – Best Books for Trading
The market wizards book series is one of the most important trading books as it includes interviews with several top traders. This is the second time Jack Schwager appears on this list.
The series includes Market Wizards (1989), The New Market Wizards (1992), Stock Market Wizards (2001), and Unknown Market Wizards: The best traders you've never heard of (2020). These allow you to analyze the perspectives of several successful traders and also the challenges they faced.  
7. Japanese Candlestick Charting Techniques by Steve Nison
Candlestick charting technique is one of the most important tools used to analyze the market. Prior to Steve Nison's work on this book, Candlestick charting was relatively unknown even in the west.
Thanks to this book the technique is one of the most widely used. The book gives a detailed explanation on the subject still making it easy to understand along with examples.
Bonus:  The Complete Turtle Trader: How 23 Novice Investors Became Overnight Millionaires
Another bonus book if you've made it so far into the list. The book covers the true story where 23 random stranger were included in a  2-week crash course on trading. Post the crash course the strangers were left to trade on their own. The book covers the strategies used by the 23 individuals which helped them make millions.
In Closing 
That's all for this post. Let us know what you think about the books on the list in the comments section below. And also let us about the books you felt made the most difference in your trading journey. You may read 'The Intelligent Investor by Benjamin Graham' book review on our website as well. Happy Trading!

Aron, Bachelors in Commerce from Mangalore University, entered the world of Equity research to explore his interests in financial markets. Outside of work, you can catch him binging on a show, supporting RCB, and dreaming of visiting Kasol soon. He also believes that eating kid's ice-cream is the best way to teach them taxes.