Asian Paints Vs Berger Paints: We Indians have a close relationship with colors. And it is not only because of Holi, the festival of colors. Millions of families sit together in India every year to discuss the color of their new car.
Sometimes the conversation is over a wall painted on the occasion of a festival or a marriage. In sum, colors aka paints make up an important part of the lives of Indians. Consequently, the paint industry carries significance for the country's GDP, employment, and investors.
In this article, we shall go through an overview of the paint industry in India. After that, we shall take a closer look at the largest two Indian paint manufacturing companies i.e. Asian Paints vs Berger Paints. Keep reading to find out!
Industry Overview
As per the data from Nirmal Bang Institutional Equities Research, the global paints and coatings market stands at $160 billion. The Indian paints industry makes up 4.38% of that and has been growing faster than the global and developed markets. 
The industry is closely associated with GDP growth. For instance, throughout history, the Indian paint sector rise has been in the range of 1.5x and 2x of GDP. This can be easily understood as the overall economy grows, increased income and industrial production lead to more consumption of paints and coatings.
Industry Division
We now have some idea of the size of the paints Industry. Let us now try to understand how the industry is structured.
In sum, the industry gets divided into the decorative paint segment and industrial coatings segment. Therefore, combined it is called the paints and coatings industry. 
The decorative paints category includes several products like exterior wall paints, interior wall paints, wood finishes, enamels, and ancillary products such as primers, putties, etc. 
The industrial segment finds applications across industries like automotive, marine, packaging, powder, protective, and other usual industrial coatings. 
Indian Paints and Coatings Industry
As per figures from Sherwin Williams Investor Presentation, the Indian paint industry is valued at ₹ 62,000 crores. The decorative paint segment accounts for almost 75% of that revenue. The industrial paints category makes up the balance of 25%. The automotive coatings market adds up to almost half of the industrial segment revenues in India.
Asian Paints, Berger Paints, Kansai Nerolac, and Akzo Nobel are the four largest paint manufacturers in India. Together they control 65% of the overall paints and coatings market. 
Talking about the segment-wise control, their combined market share stands at 75% for the decorative paints vertical. However, the industrial category is more fragmented with regional players on equal footing. The big four have a hold of 51% of the segment.
Smaller regional players make up the unorganized paint manufacturing market in India. They service the demand for lower-priced products and hold almost 35% of the total sector. 
Raw Material, Industry Growth, and Future Prospects
Now we understand who's who and what's what in the industry. We shall now read to understand what are paints made up of. And what has been the track record of the industry as a whole.
The industry is sensitive to the prices of raw materials. More than 300 products are consumed and half of them are petroleum-based. Therefore, the companies in the industry benefit when crude oil prices decline. At the same time, rising crude prices eat into the profit margins of the manufacturers. 
Excluding 2020 and 2021, the Indian paint industry has expanded in double digits historically. From 2014 to 2019, the sector recorded a CAGR of 11% revenue growth. It is one of the few mature industries that have grown fast supported by rising GDP and deeper penetration in non-metro markets. 
India's per capita consumption of paints is far behind the global average of 13-15 kgs. The country's per capita consumption of paints was 4.1 kgs in the financial year 2018-19. From 2.6 kgs in FY12, it has increased at a CAGR of 7%. Growing disposable income of the middle class, expanding rural market, contraction of the repainting cycle, and rising sale of high-end products are key factors backing the growth of the formal paint industry in India.
The sector is likely to see consolidation and formalization going forward. Along with setting up new greenfield plants, most leading manufacturers have announced brownfield expansion plans. This will result in a healthy growth rate for the industry in the future.
In addition to this, Aditya Birla Group-owned Grasim Industries has announced its foray into the paints industry. The company has earmarked an investment of ₹5,000 crores over the next three years.
Industry Analysis
From what we have learned, we understand that the industry has grown at a good pace in the past. Furthermore, the low per capita consumption in the country offers a lot of headroom. Here we shall go in-depth and perform a SWOT analysis.
Strengths 
Paints business enjoy goodwill and regular sales because of their brand name. This keeps the competition at bay. Along with this, it must be noted that paint is a high-value product. Therefore famous and old names such as Asian Paints, Berger and Nerolac are the first choice of the customers.
Because of its sheer size, Asian Paints has benefited from the cross-selling of various other products and services. More companies are following the suit making the moat stronger for the incumbents as they aspire to become well-integrated companies for interior decor.
Weaknesses
The sector is very dependent on the petroleum industry and margins get hit when crude oil prices climb.
The marketing and distribution costs make up for a sizable portion of the expenses. Regional producers give stiff competition as they are able to save on these costs and provide lower-cost alternatives in an inflationary environment. 
Opportunities
India's per capita paint consumption is well behind those of developed nations. Not only this, but it also lags behind the global average. This offers prospects of a consistent growth rate going forward.
The players in the industry have been growing faster at the bottom of the pyramid and in tier 1 & 2 cities.
Emulsions, distempers, and putties make up for the low-end products in the paints industry. This market is highly fragmented and dominated by regional producers. In the putties space, cement companies have some control of the market.   
Focused marketing has helped the paint companies to scale quickly in terms of volume for this product range. Later, over the years, the same customer moves up the price ladder.
Globally, only 40% of the demand comes from the architectural category. The rest 60% is industrial consumption. Contrast this with India where 75% is decorative and 25% is industrial. The industrial demand for coatings will rise in the future, further benefitted by various government initiatives.
Threats
The fragmented and unorganized sector still contributes to 35% of the demand in India. Except for the premium decorative market and high-ticket industrial market, it offers competitive pricing with at-par products.
Asian Paints Vs Berger Paints India – History, and Overview
For the purpose of this article, we will restrict the coverage to India's two largest paint producers: Asian Paints and Berger Paints India.
Asian Paints Ltd. is a multinational paints company based out of Mumbai, India. It is India's largest, Asia's 3rd largest paint manufacturer, and the world's 9th largest producer. The company was started in the 1940s by four friends. 
It has 26 paint manufacturing plants with operations across 15 countries. 
Berger Paints India is also an Indian paint manufacturing company. It is owned by Kuldip Singh and Gurbachan Singh Dhingra. The billionaire siblings hold a 75% stake in the company which they acquired from liquor-baron Vijay Mallya in the 1990s. 
Berger has a longer history than Asian paints as it was started in 1923. It saw multiple ownership changes till it came into the hands of the Dhingra brothers. 
It has 16 manufacturing plants across four countries: Russia, Poland, Nepal and Bangladesh. 
Asian Paints Vs Berger Paints – Product Offerings
With the premiumization of the industries, the companies in the industry have augmented their product offerings. They offer a broad range of use-specific solutions in the paints and coatings space.
Lately, paint manufacturers have also started expanding beyond their core product offerings of paints and coatings. 
Asian Paints offers a gamut of products and services. Its chief offerings include paints, wall coverings, and waterproofing. Along with the company also sells wall stickers, mechanized tools, adhesives, modular kitchens and wardrobes, bath fittings, sanitaryware, sanitisers, disinfectants, furniture, furnishings & lighting services, interior design services, and other solutions.
As compared to Asian Paints, Berger's non-paints and coatings offerings are limited to sanitisers, disinfectants, and express painting service.
Asian Paints Vs Berger Paints – Business Overview
Having come this far, we are now well equipped to understand the two companies and their businesses. Henceforth, we shall study in-depth about the two companies. 
In the first step, we shall how these two companies differ in different aspects. Later, we shall have a closer look at their numbers.
For the financial year 2022, the company reported a total income of ₹ 29,101 crores. Decorative business accounts for roughly 85% of the group's revenue. Presently, the kitchen & bath segment and industrial segment make up 2.5% of each of the revenues. The balance of 10% is Asian paints international revenue.
This makes it India's largest paint company with a 40% combined market share and 55% in the decorative paint category.
 The company has set up two 50:50 joint ventures with PPG Inc, the USA to cater to the industrial coatings market. One is focused on automotive coatings. The other one services the protective, industrial powder, industrial containers, and light industrial coatings demand.
Furthermore, the home decorative products and services business accounted for 4% of the total decorative revenue of the company. This makes a strong case for the future diversification efforts of the company beyond its usual paints and coatings revenue. 
The total revenue of Berger Paints was ₹ 7,804 crores for the financial year 2022. This makes the company almost 1/3rd of the size of Asian Paints. Berger is second in line after Asian Paints with a 12% market share in India. The company derives 80% of its revenue from decorative pigments and roughly 20% comes from industrial paints.
The non-paints line of Berger contains only painting services. Similar to Asian Paints, Berger provides consultancy and express painting services. Since the segment-wise information was not available, the proportion of this must be small in comparison to the consolidated sales of the company.
Asian Paints Vs Berger Paints – Revenue Growth
The revenues of both companies have grown at a steady rate. For the last 7 years, the revenues of Asian Paints have grown at a CAGR of 10.83%. Over the same period, Berger Paints saw a revenue CAGR of 9.36%. 
Asian Paints Vs Berger Paints – Profit Growth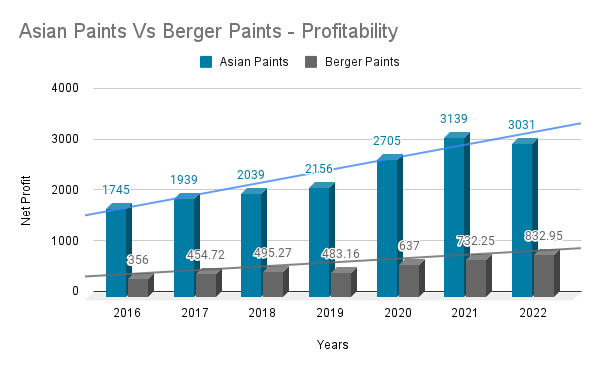 On the profitability growth front, Berger Paints has outperformed Asian Paints. The net profit of Berger Paints grew at a CAGR of 12.91% over the last seven years.
Whereas, those of Asian Paints grew at a CAGR of 8.90%. 
Historically, Asian Paints has been reluctant to pass increased costs to customers. Consequently, during multiple quarters, the company's margins would take a hit. Furthermore, Asian Paints has been diversifying its product lines. Its non-paints products and services have comparatively lower profit margins. Hence, the consolidated profit figure growth remains under pressure.
Asian Paints Vs Berger Paints – Key Metrics
Asian Paints is almost three times the size of Berger Paints in terms of revenues and 4.5x of market capitalization. It commands a higher valuation than its counterpart because of its sheer size and geography & product-led diversified revenues. 
| Particulars | Asian Paints | Berger Paints |
| --- | --- | --- |
| Face Value (₹) | 1 | 1 |
| Net Profit Margin (%) | 10.41 | 9.69 |
| Operating Profit Margin (%) | 17.92 | 16.09 |
| EPS (₹) | 31.6 | 7.72 |
| ROE (%) | 21.94 | 21.2 |
| Market Cap (₹ Cr) | 265,000 | 56,500 |
| Promoter's Holdings (%) | 53 | 75 |
| Dividend Yield (%) | 0.69 | 0.54 |
| Debt/Equity Ratio | 0.06 | 0.26 |
| Current Ratio | 2 | 1.42 |
| CMP (₹) | 2765 | 575 |
| Stock P/E | 88 | 74 |
| Book Value | 144 | 40 |
| Price to Book Value | 19 | 14 |
| 7 Year Stock Returns | 19.92 | 16.48 |
Across different metrics, Asian Paints appears to be a better company. Whether it be almost nil debt to equity ratio or short-term current ratio. Furthermore, the company has demonstrated better margins and return on equity.
Subsequently, this is also inherent in the 7-year average stock returns of both companies. The investors of Asian Paints have gained more compared to those of Berger Paints. The stock has benefited from the economies of scale, lesser risk due to product diversification, faster revenue growth, and various other factors.
In Closing
In this article, we compared Asian Paints Vs Berger Paints. We understood their business and the industry that they are working in. Later, we understood how they are different in terms of scale and product diversification. And finally, we compared them on the basis of key metrics like revenue, profitability and financial ratios. That's all for today's article, folks.
We hope to see you around and happy investing, until next time!
You can now get the latest updates in the stock market on Trade Brains News and you can even use our Trade Brains Portal for fundamental analysis of your favourite stocks.